Back to basics
You need SPF. Whatever the season. It's best practice (and easier to ensure it remains a habit) to apply all over your face as the final step of skincare and before any make-up.
Minimal products where the mask rubs the face is ideal, says Mecca's head of artistry, Tony Baumann. So skip the blush.
"Bronzer can be applied in a 'C' shape around the [outside of the] eyes for extra warmth and shape."
While application techniques can't completely beat the friction of your mask rubbing your make-up away, your choice of product can help.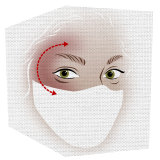 All experts are agreed: a long-wearing and hydrating foundation and a setting spray are both musts if you want more coverage. The Urban Decay All Nighter Setting Spray ($53) is an industry favourite for good reason.
"All make-up will transfer but we are finding this combination is giving the best results," says Baumann.
Choosing a matte foundation will help minimise transfer.
"If it feels heavy for you, try polishing it into the skin with a brush for a more sheer application," says Priceline hair and make-up director, Sarah Laidlaw.
Lightweight and hydrating, the Uoma Say What?! Foundation ($56) offers buildable coverage with a vibrant matte finish that looks like a second skin and is available in 51 shades.
The hydrating Bourjois Always Fabulous Foundation ($35) gives high-end worthy results while the rave reviewed NYX Can't Stop Won't Stop 24hr Foundation ($29.95) is waterproof and transfer-resistant.
Laidlaw adds: "You can also use a longer-lasting formulation on the bottom half of your face and something a little lighter or luminous – but won't outlast mask rubbing – from your eyes up to your forehead."
If you really want to commit, try this popular make-up artist trick: apply powder before your foundation. It's great for oily skin too.
"On hydrated skin, apply a thin layer of a finely milled translucent powder to create a barrier and avoid the skincare mixing into the make-up. Follow up with a light misting of setting spray to melt the powder into the skin and fan until it dries down," explains make-up artist Anabelle Ussher.
Loading
Put on primer, then your foundation, applying gently with a stippling brush so as not to disturb the layers underneath.
"Finish off with a final layer of translucent powder pressed in with a damp sponge and setting spray before fanning your face until dry."
Goodbye, statement lip. Hello, statement eyes
"We are seeing a shift towards colour being used around the eyes and a departure from neutral shades," Baumann says.
"Brighter eyeshadows, coloured eyeliners and mascaras are more playful, lifting and adding a fun and fresh approach."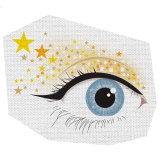 If you want to test the waters, skip a palette full of colours you won't use and opt for single eyeshadows like Mecca Max Single Eyeshadows ($8). One swipe for a pop of colour and you're done. Go big and bright or just add some depth of colour with something more neutral. The Shiseido Kajal InkArtist ($40.00) comes in 10 colours and is vibrant and pigmented.
"A dash of liquid liner and a light strip lash is great to define the eyes," Ussher says.
And if you're feeling fancy, there's always glitter eyeshadow. Perfect for any occasion, even an otherwise unremarkable Wednesday – these days at least.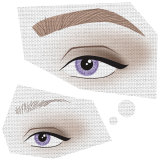 "Hourglass Scattered Light Glitter Eyeshadow ($46) looks great just tapped onto the eye with a ring finger. A little sparkle always makes it look like you put in more effort than you did," Ussher says.
Of course, we can't forget about the brows
"As eyes are now the most visible part of the face, we've seen some great sales growth, especially in the brow category," says Priceline's national head of beauty, Susie Bearzi.
"Maybelline Brows are up 21 per cent with long-wear products being the standouts such as Maybelline Tattoo Brow 3 Day Eyebrow Gel Tint ($24.95)."